Cat Tien National Park is one of six UNESCO-designated biosphere reserves in Vietnam, and is a paradise for nature and outdoor enthusiasts. The park protects one of Vietnam's largest lowland tropical rainforests, which is home to a variety of rare fauna and plants, as well as Asian elephants, sun bears, gaur, and other smaller mammals.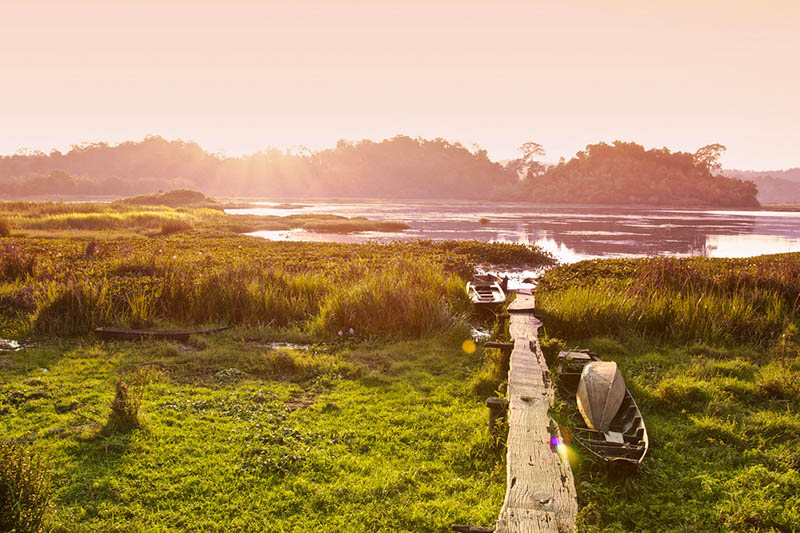 General information
Cat Tien National Park is divided into two sections: Cat Loc to the north and Nam Cat Tien to the east, the latter of which is the more popular and houses the park headquarters.
The park spans 720 square kilometers and is located in three provinces: Dong Nai, Lam Dong, and Binh Phuoc, roughly 150 kilometers north of Ho Chi Minh City. It is one of Vietnam's most important and largest National Parks, featuring portions of old-growth (primary) forest and now rare lowland woods. It is neighboring with the Dong Nai Culture and Nature Reserve in the south-west, which adds to its conservation importance.
The Cat Tien national park was established in 1978, and the Cat Loc sector was established in 1992 following the discovery of a tiny rhinoceros population (an endemic sub-species of the Javan rhino), which was regrettably hunted to extinction in 2011. Although poaching of other species remains a severe concern, Nam Cat Tien, which is partially encircled by the Dong Nai river, can benefit from stronger protection.
With significant expanses of grassland, bamboo, and marsh, the Park woodland can be categorized as seasonal tropical forest (semi-deciduous mixed jungle typified by many climbing lianas).
How to get there
You have the option of taking the bus, a private automobile, or riding your own motorcycle out of Ho Chi Minh City.
If you are traveling by motorcycle from Ho Chi Minh City, you will need to travel approximately 67 kilometers on National Highway 1A to the Dau Giay crossroads. Then turn left and follow Highway 20 for about 58 kilometers until you reach the Ta Lai junction. Turn left at this intersection and continue for another 24 kilometers to the Cat Tien National Park gate.
However, if you are unfamiliar with the road, it is best to take the bus to the national park, which will take about four hours. The two most popular and comfortable bus companies to get to the national park are Thanh Buoi Tourist Bus Company and Phuong Trang Tourist Bus Company.
Best time to visit
The dry season, which runs from December to late May, is the optimum time to visit Nam Cat Tien National Park. The rainfall is low during this dry season, and the paths are dry and convenient to travel on.
The peak season is from mid-December to mid-February, when deciduous trees drop their leaves and it becomes easier to see birds and other animals; it is also quite cool.
Though the months of March through May are the hottest, keep in mind that the forest is significantly cooler than the city. While many birds are nesting, mammals can be spotted exiting cover in search of water during this time of year.
The rains begin in mid-May, making this the greatest time of year to witness clouds of butterflies and see the forest green up after the dry season. Many of the trees bloom and begin to provide fruit, providing food for the animals and birds.
The road is marshy, slippery, and difficult to hike or ride a bicycle on during the rainy season, which runs from June to November. If you plan on visiting the national park these days, make sure to check the weather forecast to avoid getting wet and ruining your trip.
Where to stay
The Ta Lai Long House, which is located near the national park, was erected to help and enhance the lives of the locals, who are largely ethnic people, as well as to raise environmental consciousness. You can participate in kayaking, bamboo rafting, hiking, camping, yoga sessions, cooking, and a variety of other fascinating activities while staying at the house.
Green Cat Tien Hotel is located in the heart of the park. The hotel is small and consists of a few blocks; rooms include private bathrooms and air conditioning. There are double, triple, and quadruple rooms available, as well as an 8-bed mixed dormitory. If you're traveling in a small group to Cat Tien National Park on a budget, this motel is a good option.
Even though Cat Tien Jungle Lodge is located outside the park, on the riverbank, the park headquarters are only a few minutes away. The hotel features nice rooms with views of the river or the lodge's garden; they are all en-suite and have private bathrooms and air conditioning. The lodge includes a great restaurant with a river view, as well as a lounge bar, pool, and sauna. It also offers a children's playground, making it ideal for a family excursion to Cat Tien National Park.