Due to the extreme Mekong region's intricate and wide river system, floating marketplaces have been a way of life and trade for over a century. These markets are conveniently located in the delta, where people actually purchase locally sourced fruits and vegetables. The sellers sell their wares directly from the boats and hang them on long poles so that passers-by can view what's for sale from afar. Smaller boats serve as mobile cafes, selling beverages such as soda, coffee, and noodle soup for breakfast.
The floating markets are one of the highlights of the Mekong Delta, but because there are many of them, it's vital to recognize which ones are the best. So take a look at this list right now!
Cai Be floating market
Cai Be Floating Market is the closest to Ho Chi Minh City. Unlike all other floating markets, which only launch in the morning, Cai Be Floating Market opens later in the day and continues until late evening. As a result, you can visit the market late in the day and still enjoy a lively atmosphere. Taking a private or group tour or renting a car with a driver from Ho Chi Minh City is the best method to get here.
Long Xuyen floating market
The Long Xuyen Floating Marker is located on the Hau River in the less-visited province of An Giang. As a result, it is a less popular market, but one that is significantly more genuine. Because tourists are new to the area, the locals are curious and will make an effort to communicate with you. Many boats may be found moored near the river, where the inhabitants live and trade all year. Crops such as vegetables, beans, pumpkin, potato, and famous An Giang delicacies like fish noodles and pig house cookies, etc. make up the majority of the goods.
You can take a bus from Ho Chi Minh City to Long Xuyen, or you can first go to Can Tho and spend the night before taking a taxi, bus, or tour early in the morning.
Cai Rang floating market
The Mekong Delta's biggest and most popular floating market is Cai Rang floating market. The market opens at 5 a.m. and runs till the noon, but it is ideal to arrive before 8 a.m. Fruit, farm products, and regional specialties are the most essential things here. Every morning, hundreds of small and big boats park close to one another, and items for trading are hung on board.
Because you would visit the floating market in the early morning, you must stay close to the market the night before. Tours to this area are always at least two days long, with a visit to the market the following morning. You can rent a boat from Can Tho's port to tour the area's floating markets and small waterways.
Phong Dien floating market
Phong Dien Floating Market is a locals' traditional trading center, where most daily goods are resold at local markets or straight to wholesalers on board. Unlike Cai Rang Floating Market, Phong Dien Floating Market sells a variety of items, including household and utensils, canoes, boats, roof plates, knives, machetes etc., and fishing equipment like as fishing nets and baskets, as well as a variety of other local and foreign items.
Following your visit to the floating market, you can explore the surrounding area, which includes small villages and orchards.
Tra On floating market
The market can open quite early, as early as 2:00 a.m. However, you should come between 5 and 6 a.m., as this is the busiest time. Fruit and seasonal farm commodities are the principal items offered here, as they are in other floating markets. The market's bustle is affected by the tide. The market becomes busier as the tide rises.
Nga Nam floating market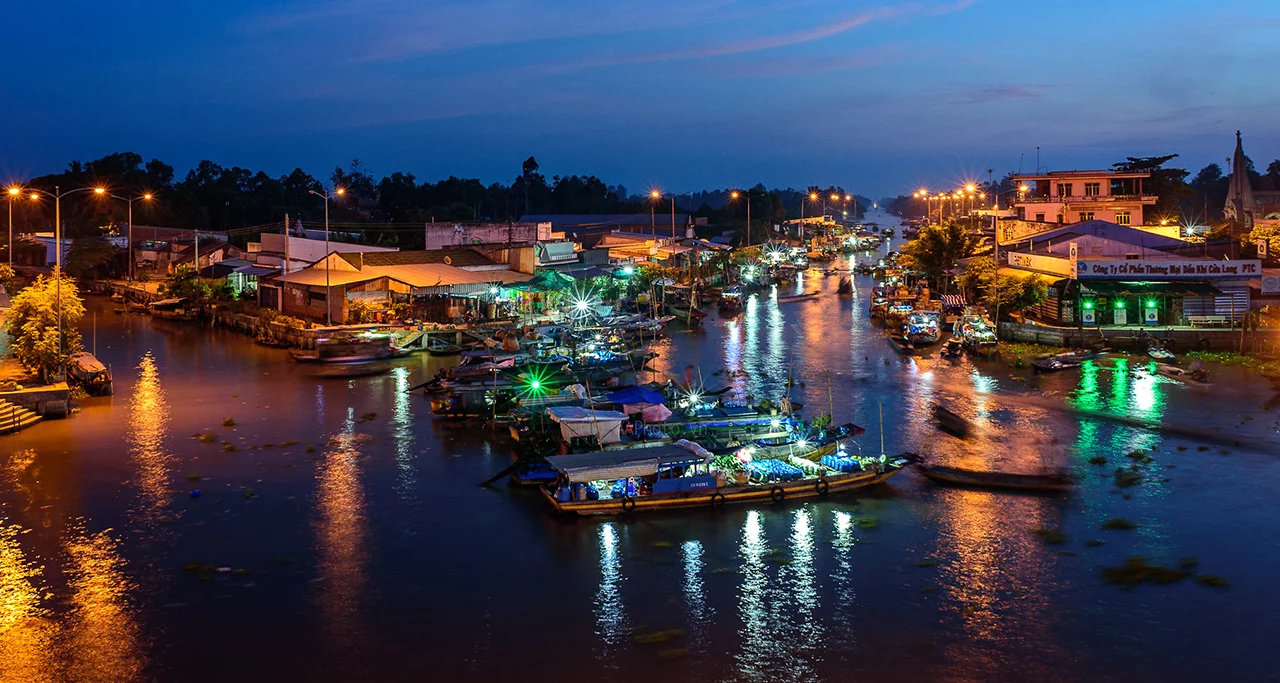 Most Mekong specialties may be found here because it is the region's most central market. Boats are loaded with rice, vegetables, fresh fruit from orchards, shrimp, fish, crabs, frogs, and a variety of other foods. Boats carrying home things and electronics can also be found. The market opens about 3:00 a.m. and closes around 5:00 a.m. You must spend the night in the neighborhood if you want to see the market.
You need to take a bus from Ho Chi Minh City to Cau Mau to get to the market. You then take another shuttle bus to Nga Nam, where you can rent a boat to transport you to the market.
------------------------------
An inbound tour operator specializing in providing tour packages in Vietnam, Laos and Cambodia