Tra Su Cajuput Forest, also known as Tra Su Flooded Forest, Tra Su Mangrove Forest or Tra Su Bird Sanctuary is located in Van Giao Commune, Tinh Bien District, An Giang Province, Vietnam, about 10 kilometers from the Cambodian border. It is an ecosystem of cajuput trees that line dusty dirt trails and are home to a wide variety of birds and other wildlife. Tra Su is an excellent place to experience the typical ecosystem of the Mekong Delta for nature lovers. During flood season, the forest is adorned with the enticing appearance of a green carpet of duckweed covering a large area.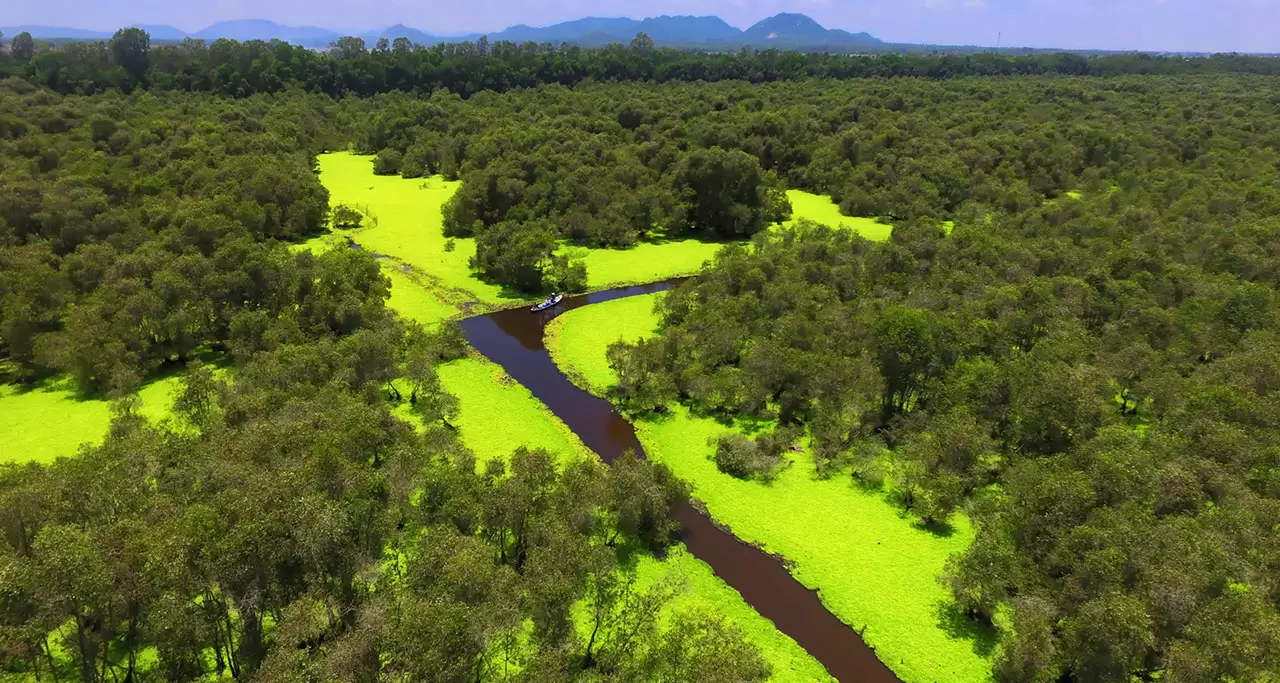 General information about Tra Su Cajuput Forest
Prior to 1975, Tra Su had been demolished by American bombs and had become an uncultivated area. Postwar, An Giang province invested in reforesting cajuput and constructing a 12km long, 4m wide, and 4m high dyke system to keep the area from flooding during flood season. Since 1983, the forest has been declared as a special restorative zone with the goal of becoming a nationally recognized scientific forest and nature reserve.
Tra Su gives a magnificent beauty of enormous marsh, emerald-green duckweed carpet, and dense cajuput woodland, with an area of 850 ha and a very rich natural habitat. While exploring the interior, visitors will be awestruck by the beauty of the forest. The vista is enhanced by lines of cajuput trees that run alongside the stream.
The forest is home to more than 70 bird and stork species, including the painted stork (Giang Sen) and the oriental darter (Dieng Dieng), both of which are included in the Vietnam Red Book. There are also 22 reptile species, 11 mammal species, and 23 aquatic animal species. The forest is not only abundant in animals, but it also contains up to 140 different species of flora.
To facilitate travel, the forest has been divided into several sites, including a 3,000m2 fishing area, a 3,200m2 bird sanctuary, and a 2,500m2 bat sanctuary, which all cater to the specific personal needs of different types of visitors.
What to do in Tra Su Cajuput Forest
A voyage through the Tra Su cajuput forest begins atop a long tiny motorized boat known to the locals as a "tắc ráng." In the Mekong Delta region, it is a highly frequent mode of transportation. You can see the rich foliage of lotuses and water lilies on the lake as you walk along the little canals that run beside the woodland.
To get to the heart of the forest, you'll be transferred to a small wooden rowing boat with only enough room for four people. As you gently drift along the water and go deeper, through small canals, you will be amazed at the variety of birds that will be scattered all around you. Thousands of white storks and other colorful bird species can be seen flying above or perching on the branches. The sampan rower will assist you in learning more about the forest and pointing out where the birds can be found.
After the boat excursion, ascend to the top of a 14-meter-high watchtower for a spectacular view of the large Tra Su cajuput forest, populated with birds, and the Forbidden Mountain (Nui Cam) in the distance. There is also a telescope for individuals who wish to view at the bird nests in greater detail or have a closer look at the birds underneath as they are looking for food or building nests. Arrive just as the sun begins to set; it will be the most memorable scene of the journey.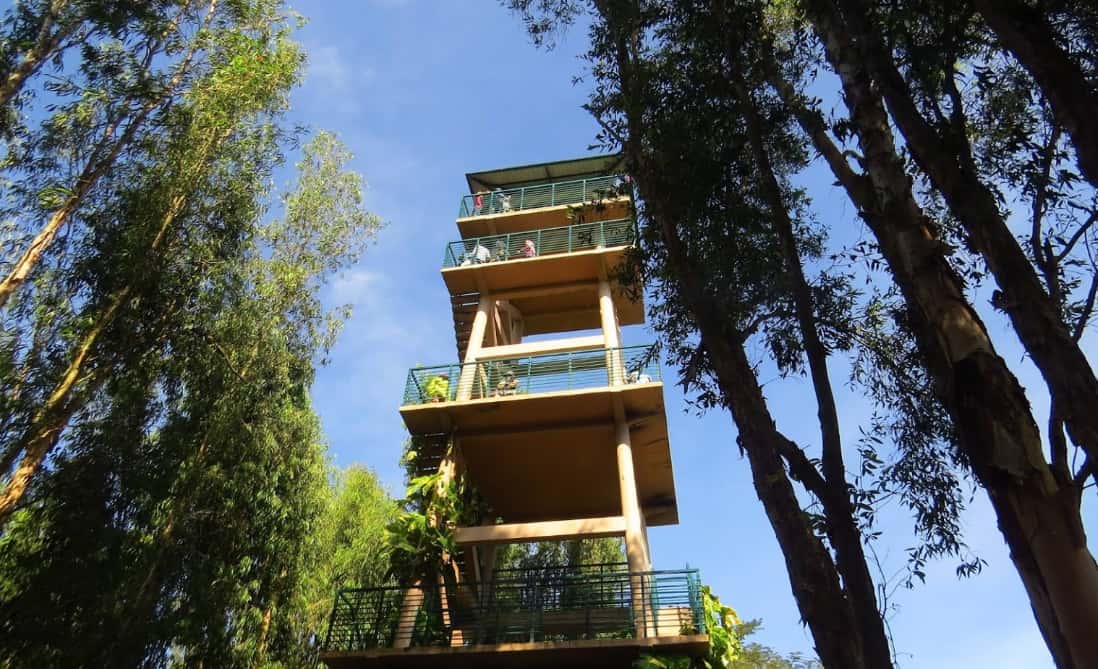 The longest bamboo bridge in Vietnam, recently added by the Chau Doc tourism authority, is a must-see in Tra Su forest. Stepping upon each span of this unusual 10-kilometer bridge will transport you to a world of white cajuput flowers with a gentle aroma, far apart from the hustle and bustle of daily life.
Don't forget to taste some local specialties in a little hut in the middle of the jungle, such as grilled chicken with honey, hotpot of Mekong fishes and sesban flower, fried or roasted fishes... Local foods are frequently cooked and served with a variety of tropical herbs and vegetables. While enjoying a meal in the natural setting of the forest, you will undoubtedly have a wonderful experience.
Best time to visit Tra Su Cajuput Forest
From September through November, when the whole forest is covered in water, is the finest time to visit Tra Su cajuput forest. This allows boats to float around and provide a spectacular spectacle, notably when the sun reaches the surface of the water.
The weather is nice from 7 a.m. until 9 a.m., and you can see thousands of birds flying for food and listening to wildlife sing. In the meanwhile, the best time to watch birds returning to their nests is between the hours of 5:00 and 6:30 p.m. In addition, you can hike to the observation tower and use binoculars to see the life of birds and storks.
Travel tips
It is advised to bring sun cream and bug spray, as well as a hat, light clothing, and sandals.
A binocular is an excellent piece of equipment for extending your reach. Always have your camera ready, and simply ask the boat rower where the most birds can be found.
Be quiet so as not to frighten the birds.
---------------------------------
An inbound tour operator specializing in providing tour packages in Vietnam, Laos and Cambodia