Going to Nha Trang without exploring the adjacent islands, according to seasoned travelers, is a travesty. Getting away from the mainland to explore the outer reaches of the Nha Trang islands is always a wonderful and amazing experience. Take a look at the list of Nha Trang's most beautiful islands below to choose the ideal offshore location for your next vacation.
Diep Son island
Thanks to social media, the raw beauty of Diep Son Island has recently been increasingly famous and extensively broadcast. A few of guardhouses, an authorized camping area, and various beach side cafés can be found on the island. Low tide is the greatest time to explore the island since you can see the curving sandbar and three of the islets are linked by a "sand bridge." Taking a speedboat from Van Gia Town to the island is a quick and easy way to get there.
If you plan on staying more than 3 hours, pack plenty of sunscreen because the island is quite hot and sunny. Local restaurants around the shore serve the tastiest seafood meals.
Suggested activities:
Pick a modest hill and climb it to get a fantastic perspective over the archipelago.
Explore the underwater world with colorful tiny fish, wild oysters, and sea snails via snorkeling.
Van Phong Bay is a great place to go camping with your buddies.
Yen islet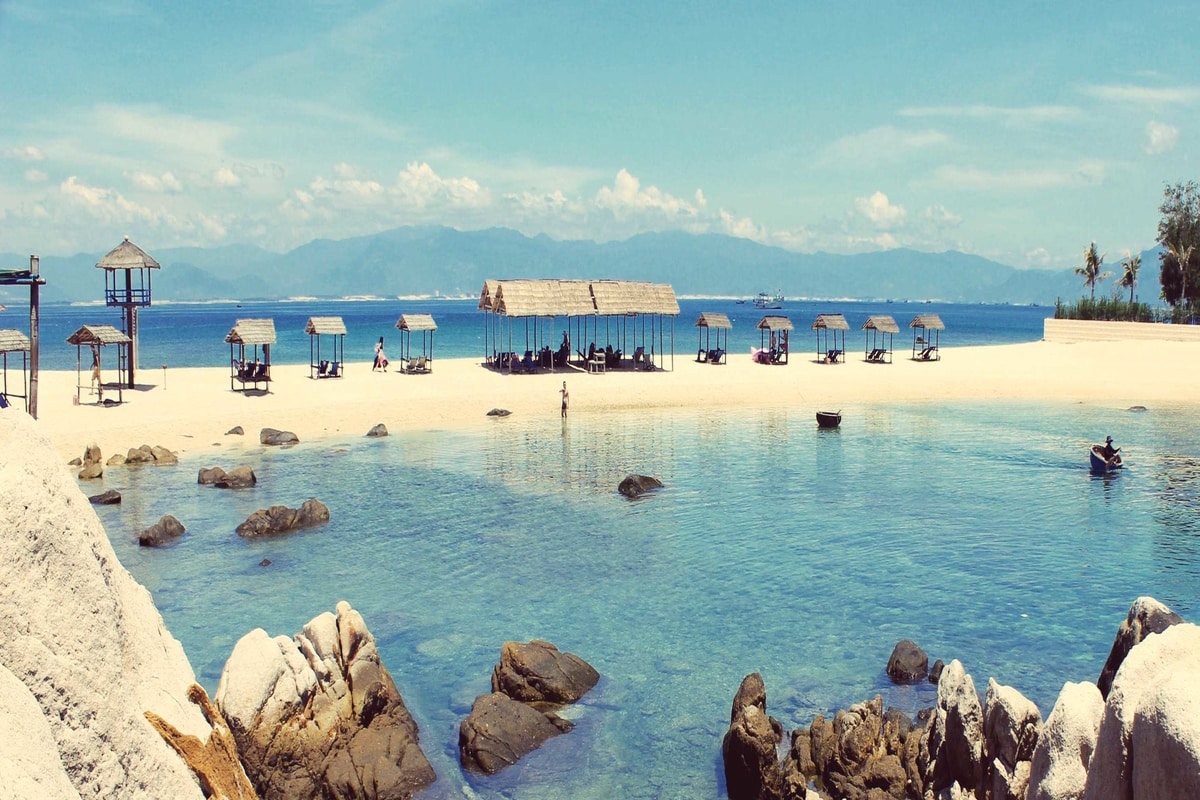 Yen Island, a nesting island in Nha Trang, is approximately an hour away by boat from Cau Da Port. The island's natural features have encouraged a large number of salangane to come here and build their nests. These nests are gathered every year to provide nutritious nourishment.
Furthermore, the island is notable for having Vietnam's only twin beach. The beach is divided into two sections: one with hot water and the other with cold water. Let's go to the island with your family or a group of close friends for a happier and more interesting vacation. You must get up early because the ships to Yen Island sail from Cau Da port at 7:30 a.m.
Suggested activities:
Climb the 220 steps to the top of Du Ha Mountain for a panoramic view of the surrounding waters.
Purchase products manufactured from natural salangane nests, such as salangane nest drinks and salangane nest wine, as well as seahorses.
Take a dip at the twin beaches.
Tre islet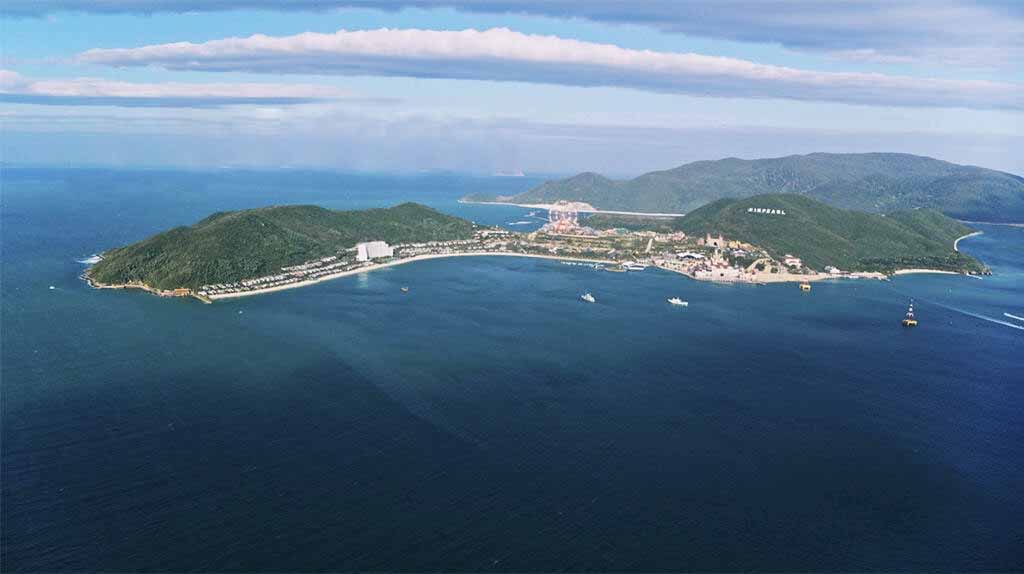 Tre Islet is one of Nha Trang's most popular tourist destinations. It is regarded one of the most beautiful beaches in Vietnam, and is only 5 kilometers from the city center of Nha Trang. It has the hidden and undisturbed beauty of nature. Many travelers chose this location for their Nha Trang environmental trip. In addition to stunning seascapes, Tre islet is an entertainment paradise with abundance of beautiful hotels and modern resorts. With all-inclusive amenities, you will undoubtedly enjoy your vacation here.
Suggested activities:
Visit Vinpearl Land, the world's longest gondola across the sea, and the Con Se Tre tourist village, which is primarily composed of bamboo buildings.
Try out different water sports like riding a water motorcycle or snorkeling.
Bai Tru Beach is ideal for swimming.
Mun islet
A wise visitor once advised: "Do not claim to have visited Nha Trang if you have never seen the coral reef." Nha Trang is known for having one of the most beautiful coral reefs in all of Vietnam's coastal locations. Hon Mun islet, one of the prominent islands nearby in Nha Trang, is one of the most popular spots to observe coral.
Traveling by boat takes 45 minutes from Cau Da port, which is only 10 kilometers away. Hon Mun scenery can take a first-time visitor's breath away because of its splendor. Salangane species abound on the eastern side, while towering cliffs dot the southeastern side. The majority of the rocks on the island are as dark as ebony, giving you a powerful feeling.
The islet is a wonderful site for those who want to learn about diverse marine animals because of its good climate and terrain. You will have the opportunity to swim with peaceful colorful fishes and freely appreciate the multi-shaped coral reefs by diving into the fresh, transparent sea water.
Recommended visiting season: July to September, when the weather is sunny and the water is clear, making the coral reefs great for viewing. Remember to bring your waterproof camera because there will be plenty of photo opportunities here.
Suggested activities:
Play on the beach, relax in the sun, and listen to the waves.
Dive in Mun islet, the country's first marine biodiversity area, to see the beautiful paradise of coral reefs and fish.
A glass bottom boat will provide you with an entirely new experience, allowing you to witness the true setting of undersea life.
Join other travelers at a floating bar and eat out on the sea.
Tam islet
Tam islet, about 7 kilometers from Nha Trang, is a popular tourist location for those looking for a tranquil getaway. Tam islet's climate can be defined as chilly in the winter and mild in the summer, allowing travelers to visit and enjoy themselves almost all year.
Suggested activites:
There will be various locations along the shore where kayaking and motorboating can be enjoyed
Tam islet is also known for its cultural attractiveness. Visitors to Tam islet are advised to stop by Hoang Hoa Village. This Old Village, which is around 400 meters square, contains five houses that are over 100 years old. One of these mansions has 36 antique pillars and old furniture that has been preserved in its entirety.
Cau Ngu Festival, Vua Hung Festival, ceramics, weaving, zither playing, and other activities in Hoang Hoa village will transport you to a bygone age.
Binh Ba island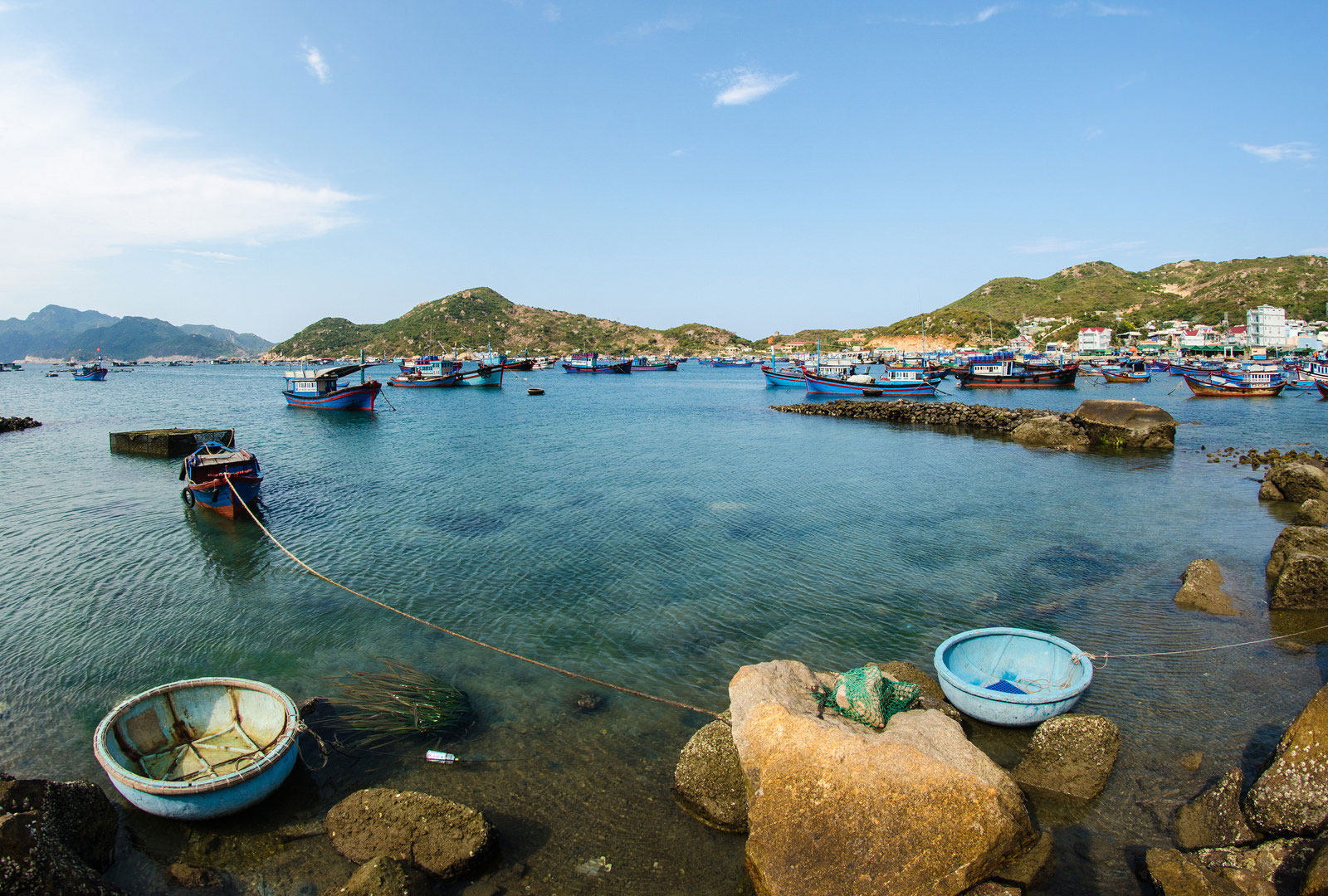 Binh Ba is a small island off the coast of Cam Binh, around 60 kilometers from Nha Trang. The island is known as "Lobster Island" because it has a long history of providing the freshest and most delectable lobsters to the Khanh Hoa region.
It used to be under the jurisdiction of the army and was just recently released to the public, yet it is still unspoilt and beautiful, with simple characteristics. The beauty of nature is beautifully preserved here, attracting hundreds of visitors. It has everything you might want in a vacation destination: sunshine, blue skies, soft white sands, and a breathtaking coastline.
Travelers visiting Binh Ba will have the opportunity to sample the best seafood (particularly lobsters) at the most affordable prices. More interestingly, guests can go on the boats and pick their own sea critters to acquire the freshest seafood. These critters will then be prepared and offered to culinary enthusiasts directly on the boats, or even on the... sea! (This means you'll be wearing a life jacket and floating in the water while eating fish! (Doesn't it sound enticing?).
Binh Ba Island is also a must-visit for anyone looking to get away from the noise and bustle of the city. Binh Ba beach, which is located far from the residential area, is known for its pure beauty and lack of crowds.
The best time to visit is from March through September. The weather will be warm enough for swimming and lobster catching throughout these months. To go to Binh Ba Island, take a boat from Ba Ngoi Port (give the cab driver the name and they will take you to the exact location). A person's boat ticket costs roughly 30.000 VND ($1.5). At least one day on Binh Ba Island is recommended.
Binh Ba is a strategic military island off the coast of Vietnam. As a result, even if the requirements have been relaxed, international tourists are still subject to restrictions.
Suggested activities:
Sunbathe on the beach
Dive in the beautiful coral reefs at Nha Cu or Sa Huynh beaches.
Early morning sunrises on the beautiful beaches of Binh Ba island are a must-see.
Rent a motorcycle and go on a motorcycle tour around the island.
Local seafood is a must-try.
Whale island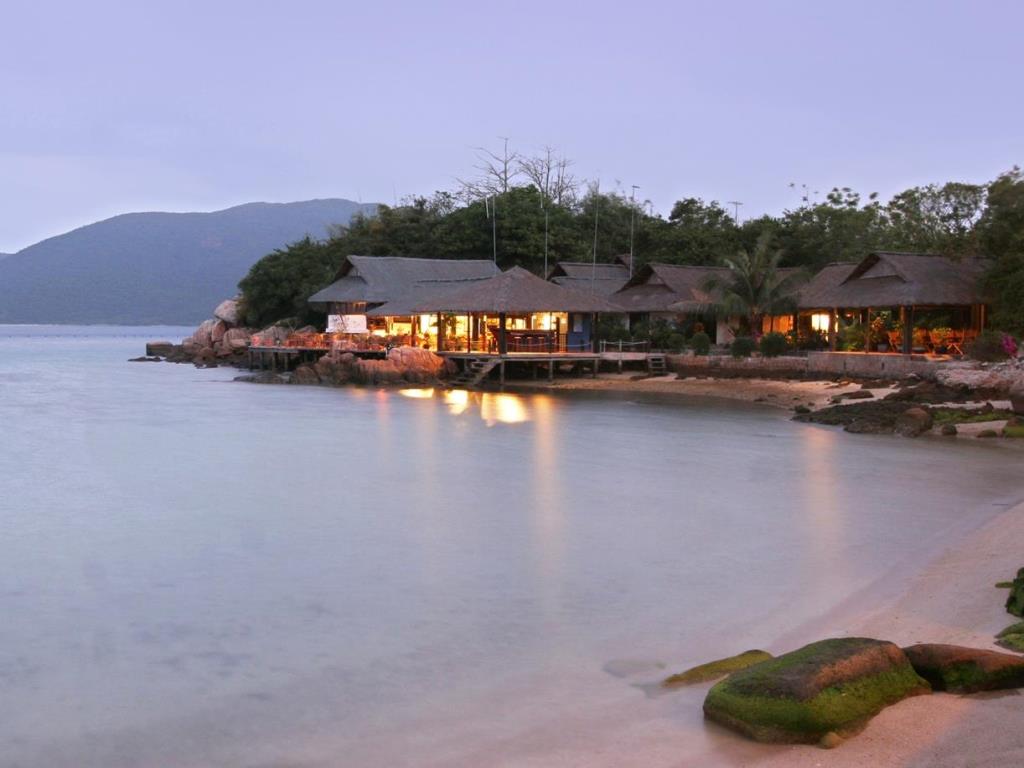 Whale Island is around 100 kilometers from Nha Trang. There are no people on Whale Island. The single resort on the island, Whale Island Resort, is in charge of all tourism activities. One of the most pressing challenges on this island is environmental conservation. Whale island tourists would be unable to undertake fishing or bird hunting. This island is not advised for those searching for an active vacation where they can spend their days and nights in bars or busy venues. However, if you're searching for a pristine island where you can get away from the rush and bustle of contemporary life, this is the place for you.
If you are serious about visiting this island, you should make a reservation at the only resort on the island, which has roughly 30 rooms. The resort is primarily composed of wood, bamboo, and various dried leaves, so you will be able to fully immerse yourself in nature. To get to the island, travel to Dam Mon Port and a resort boat will take you to Whale island for FREE! The months of February to August are ideal for travelling because there are less storms.
--------------------------------
An inbound tour operator specializing in providing tour packages in Vietnam, Laos and Cambodia