This list will be helpful if you are a mountain lover and considering what to do in Vietnam.
Contents
From the highest top Fansipan (3,143 m) to the lowest top Chung Nhia Vu (2,918 m), there are rugged terrain that makes climbers often take 2-3 days to complete.
1. Fansipan
Fansipan (3,143 m) is Vietnam's highest peak, known as the "Roof of Indochina," and is located in Hoang Lien National Park, about 10 kilometers from Sapa town in Lao Cai. The best time to climb Fansipan is between September and April, when the weather is dry but not too cold. There are three routes to the top of Fansipan, with the Tram Ton route being the most popular for tourism due to its shorter path length but more diverse and favorable terrain; it will take you two days and one night. This arc's most popular rest stops are at 2,200 m in the afternoon and 2,800 m in the evening.
2. Pusilung Peak
Pusilung Peak (3,083 m) is located in the commune of Pa Ve Su, Muong Te district, Lai Chau province, which borders China. After Fansipan, this is Vietnam's second highest mountain. Because it is the longest and harshest arc in the Northwest, the 3-day 2-night climbing arc with a total length of more than 60 km is the dream destination for those with climbing experience. Climbers must pass through 11 large and small streams, pristine primeval forests, sections of reed forest, thatched grass, bamboo forest, chestnut, oak, and ancient golden rhododendron... to reach the summit. You will especially notice landmark 42, which was built in 2008 and is the second highest border landmark in the entire territory of Vietnam (only after landmark 79) and is located at an altitude of 2,866 m.
3. Mount Putaleng
Mount Putaleng (3,049 m) is located in Ta Leng commune, Tam Duong district, Lai Chau province. The long climbing arc, steep mountain terrain, takes about 2 days and 1 night, starting from Pho village, Ho Thau commune and going to Ta Leng street to see all the beautiful scenery of the mountains and have different climbing experiences. The road to Putaleng passes through the gentle Thau stream, many sections have large rocks forming small, fresh and cool water reservoirs. Putaleng's "difficult" challenge is that there are three steep mountains without a flat section, many climbers have to swing up the branches of forest trees, in some places have to crawl on 4 limbs... The route is mainly going under the forest canopy, so you can avoid the hot sun.
4. The Ky Quan San range
The Ky Quan San range (3,046 m) or Bach Moc Luong Tu, which forms the natural boundary between Lai Chau and Lao Cai, was only recently explored on the way up in 2012. Visitors have the option of departing from either of the two provinces. The most popular, however, is the bow from Sang Ma Sao commune, Bat Xat district, Lao Cai. Muoi mountain in the Ky Quan San range, with its highest peak of over 3,000 m, is one of the most beautiful places in the northern mountainous region to watch clouds and sunrise. Conquering the top of Ky Quan San in May, visitors will have the opportunity to see the terraced fields of the Mong people in the pouring water season.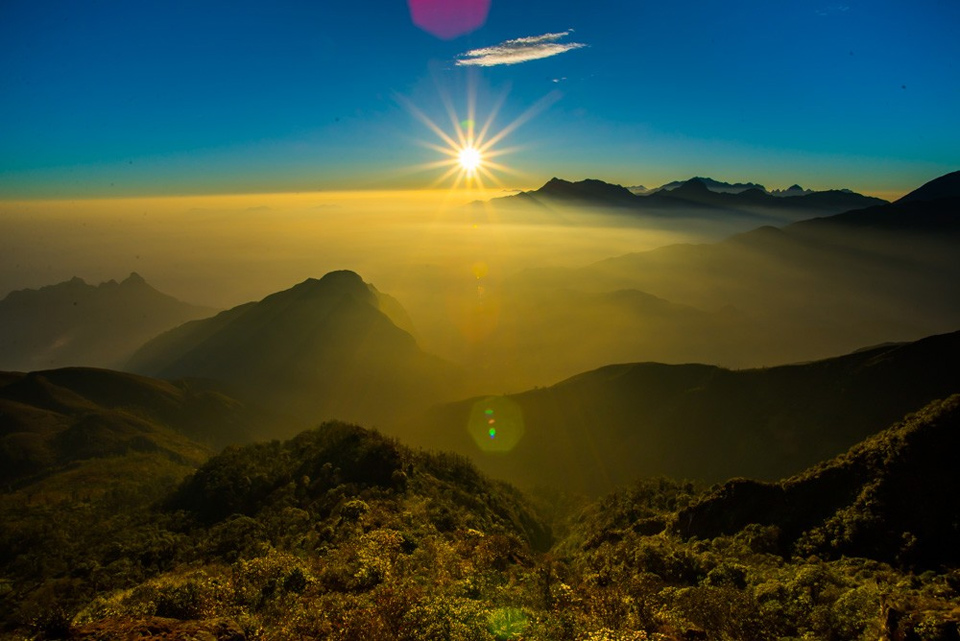 5.Khang Su Van peak
Khang Su Van peak (3,012 m), also known as Phan Lien San or U Thai San, is located in Dao San commune, Phong Tho district, Lai Chau province. The route with a total length of about 20 km was first conquered by mountaineers in mid-2015 and quickly became a destination for trekkers due to its passage through the primeval forest with giant moss-covered tree trunks. The 2 day 1 night trip to Khang Su Van peak also passed border milestone 79, the highest landmark in the whole border of Vietnam.
6. Ta Lien Son
Ta Lien Son (2,996 m) or Co Trau is the highest mountain in Ta Leng commune, Tam Duong district, Lai Chau province. The journey to Ta Lien peak usually takes two days and one night. Ta Lien's forest is still very wild, with hundreds of years old mossy and mysterious trees. Climbing Ta Lien is not difficult; currently, there is a rest stop at an altitude of 2,400 m, which is convenient for rest. Prepare a thin coat, basic medical supplies, and two days' worth of water. Ta Lien is best climbed between April and May, when the azaleas are in bloom, and September and October, when the maple forest changes color.
7. Ta Chi Nhu peak
Ta Chi Nhu peak (2,979 m), also known as Phu Song Sung by Thais and Chung Chua Nha by Mongs, is located in the Hoang Lien Son range's Pu Luong massif. The roof of Yen Bai province is located in Xa Ho commune, Tram Tau district, and is known as the "cloud heaven on earth." It was first conquered by tourists in 2013 and is known as the "cloud heaven on earth." The last days of autumn are still dominated by the purple flowers of chi pau. "Chi pau" means "don't know, don't understand" in the local Hmong language, and refers to the pale purple flower that blooms along the mountainside for months on end, enticing many tourists.
8. Po Ma Lung peak
Po Ma Lung peak (2,967 m) in Ban Lang commune, Phong Tho district, Lai Chau has been known to travelers since 2017. Although it is only ranked 8th in the top 10 highest mountains in Vietnam, it is the altitude that people climb Po Ma Lung must pass is very high, nearly 2,200 m (from 800 m above sea level to nearly 3,000 m), a journey of more than 40 km of mountain roads in 3 days and 2 nights to successfully conquer Po Ma Lung peak and return to Ban Lang commune.
9. Nhiu Co San
Nhiu Co San (2,965 m2), which means Horn of Buffalo in the Mong ethnic group, is located in Sang Ma Sao commune, Bat Xat district, Lao Cai province. Nhiu Co San mountain range has 2 peaks pointing out into the sky, bending like a buffalo horn. During the azalea season in March and April, the top of Nhiu Co San mountain is immersed in red and purple colors, and in late December and early January, the top is often covered with snow. The climbing route also passes through the ancient stone road of Pavi, which was built during the French colonial period in the early years of the 20th century.
10. Chung Nhia Vu Peak
Chung Nhia Vu Peak (2,918 m) in the area of Nam Xe commune, Phong Tho district, Lai Chau, is a natural boundary on the Vietnam - China border, located near the landmarks 83, 84; the foot of the mountain is near landmark 85. From Hanoi, tourists move to Sa Pa, then through Y Ty, then from Y Ty to Nam Xe. The road to Chung Nhia Vu is mainly along streams, almost intact primeval forests with large trees 50 m high. The mountain is quite far away from the population and is a natural barrier to China, attracting communities from three regions to conquer.
Explore more categories: Vietnam travel blog